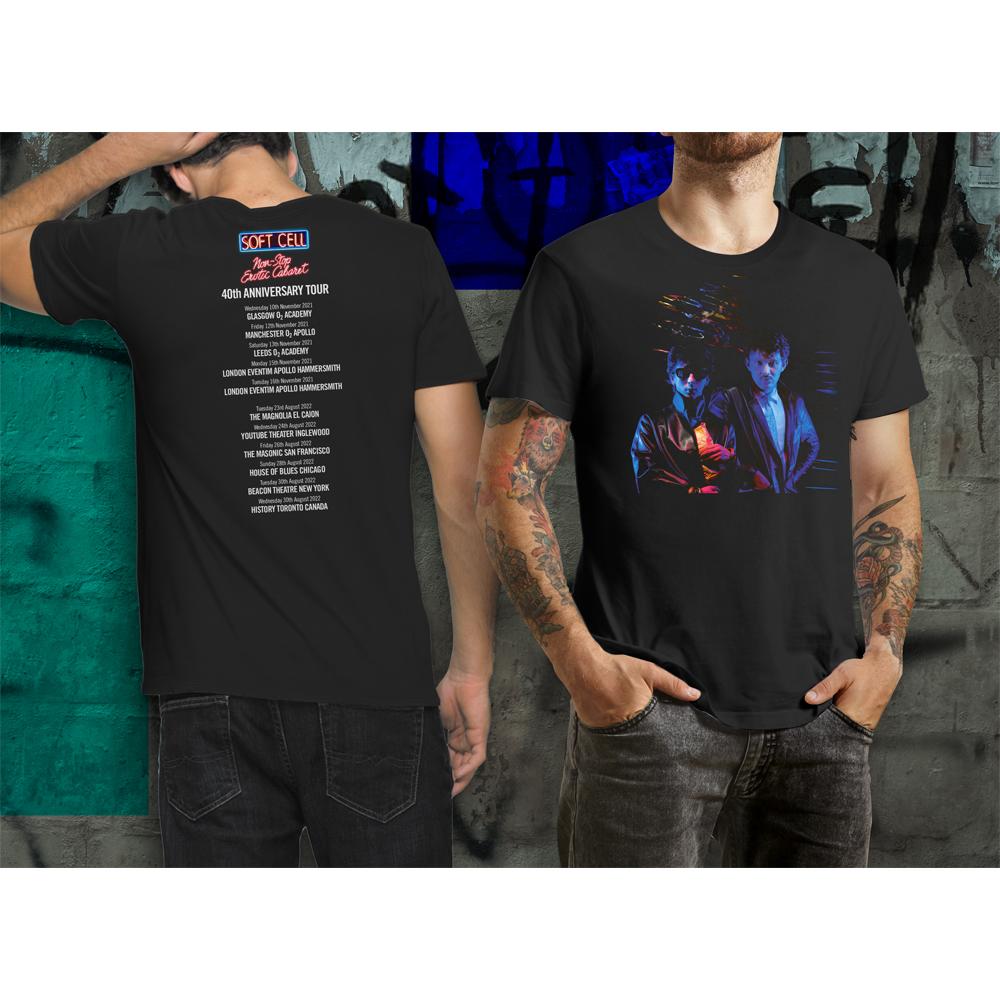 Soft Cell - Tour 2022 Merchandise - Deluxe Non-Stop Erotic Cabaret North America Tour T-Shirt - pre-order [2022-08-12]
Pre-Order
Soft Cell - Tour 2021 Merchandise - Deluxe Non-Stop Erotic Cabaret North America Tour T-Shirt
As a result of the late change of Soft Cell's American tour schedule, unfortunately it has not been possible for the North America tour merchandise to be manufactured as planned as the designs have needed to be amended. In view of this we anticipate around a week's delay for pre-orders to be despatched.
The iconic Non-Stop Erotic Cabaret album turned 40 years old in 2021, and to celebrate Soft Cell have created a very limited edition T-shirt, with both front and back prints in full colour. Featuring the celebrated Peter Ashworth album front cover art, with the titles and tour dates on the reverse, this is one very special piece of merchandise.
Soft Cell's 2022 North America tour commences 23rd August 2022. As Soft Cell's exclusive online tour merchandiser we are making available this North America tour t-shirt online as merchandise is not expected to be available at the shows.
Available in the sizes shown below, select your t-shirt size from the drop-down menu below.
Size guide as follows (this is approximate distance across chest in cm when laid out flat):
Mens (Unisex):
| | | | | | | |
| --- | --- | --- | --- | --- | --- | --- |
| Size: | S | M | L | XL | 2XL | 3XL |
| Chest: | 45 | 50 | 53 | 58 | 64 | 68 |
"Soft Cell - Tour 2021 Merchandise - Deluxe Non-Stop Erotic Cabaret North America Tour T-Shirt" is out 12th August 2022 and available for pre-order now.
NB: All products ordered with a pre-order will be dispatched together close to the latest pre-order release date. If you want earlier dispatched for another product then please place separate order(s).
Format: North America Tour T-Shirt
Catalogue Number: SCNATMECT
Release Date: 12th August 2022