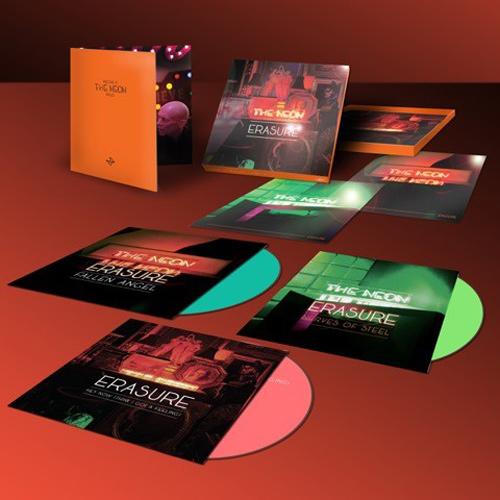 Erasure - The Neon Singles - (Limited Edition 3xCD EP Boxset) - pre-order [2020-12-04]
5400863040406
Pre-Order
Erasure - The Neon Singles - (Limited Edition 3xCD EP Boxset)
To follow up Erasure's No 4 UK album, 'The Neon', Mute are releasing, just in time for Christmas, 'The Neon Singles'. The 3 x CD boxset features 29 remixes and extended tracks from the singles - 'Hey Now (Think I Got A Feeling)', 'Nerves of Steel' and 'Fallen Angel', as well as additional remixes of 'Shot A Satellite.
Includes remixes from Daybreakers, Ben Rainey, 7th Heaven, Confidence Man, Initial Talk, Bright Light, Bright Light, Nimmo, Philip George and Georgia as well as an extended version of Nerves Of Steel by Erasure.
An exclusive limited edition of 4000 copies total, the 2 piece box comes with mirror paper wrapping on the top and uncoated paper wrapping on the bottom. The 3 CDs are in card wallets printed on a reverse board, and include 3 art cards printed on mirror board and a 4 page booklet printed on uncoated paper.
"Erasure - The Neon Singles", is out Friday, 4th December 2020 on Mute and available for pre-order now.
NB: All products ordered with a pre-order will be dispatched together close to the latest pre-order release date. If you want earlier dispatched for another product then please place separate order(s).
CD1 Track Listing - Hey Now (Think I Got A Feeling)
Hey Now (Think I Got A Feeling) (Daybreakers Remix)
Hey Now (Think I Got A Feeling) (Daybreakers Dub)
Hey Now (Think I Got A Feeling) (Daybreakers Remix Instrumental)
Hey Now (Think I Got A Feeling) (Philip George Remix)
Hey Now (Think I Got A Feeling) (Philip George Extended Dub)
Hey Now (Think I Got A Feeling) (Philip George Remix Instrumental)
Hey Now (Think I Got A Feeling) (Nimmo Remix)
Hey Now (Think I Got A Feeling) (Nimmo Extended Dub)
Hey Now (Think I Got A Feeling) (Nimmo Remix Instrumental)
Shot A Satellite (Initial Talk Remix)
CD2 Track Listing - Nerves of Steel
Nerves of Steel (Extended Version)
Nerves of Steel (Bright Light Bright Light Remix)
Nerves of Steel (Bright Light Bright Light Extended Dub)
Nerves of Steel (Bright Light Bright Light Remix Instrumental)
Nerves of Steel (7th Heaven Remix Edit)
Nerves of Steel (7th Heaven Remix)
Nerves of Steel (7th Heaven Dub)
Nerves of Steel (7th Heaven Remix Instrumental)
Shot A Satellite (Initial Talk Extended Dub)
CD3 Track Listing - Fallen Angel
Fallen Angel (Georgia Remix)
Fallen Angel (Georgia Extended Dub)
Fallen Angel (Georgia Remix Instrumental)
Fallen Angel (Confidence Man Remix)
Fallen Angel (Confidence Man Dub)
Fallen Angel (Confidence Man Remix Instrumental)
Fallen Angel (Ben Rainey Remix)
Fallen Angel (Ben Rainey Dub)
Fallen Angel (Ben Rainey Remix Instrumental)
Shot A Satellite (Initial Talk Remix Instrumental)
Format: Limited Edition 3xCD EP Boxset
BarCode: 5400863040406
Catalogue Number: CDMUTE617
Label: Mute
Release Date: Friday, 4th December 2020