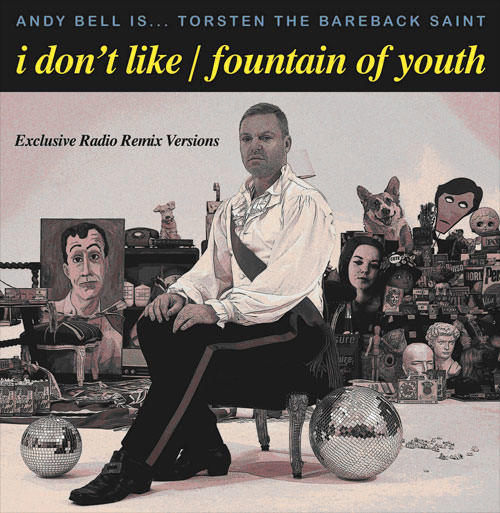 Andy Bell - I Don't Like / Fountain Of Youth - The Radio Remixes - (Limited Edition 7" Vinyl Single)
5013929843776
In Stock
Andy Bell - I Don't Like / Fountain Of Youth - The Radio Remixes - (Limited Edition 7" Vinyl Single)
Two of the songs from Andy Bells critically acclaimed new album Torsten The Bareback Saint have been remixed especially for the radio. The only physical format of these two tracks will be this strictly limited edition double A side single. These singles have been especially remixed and edited for radio by producer Mike Allison (Olivia Newton-John, Cliff Richard, Peter Straker).
I Don't Like (Radio Remix) was the first track to be promoted for radio play and features alternative radio friendly lyrics exclusive to this version. I Dont Like (Radio Remix) is the wistful recollection of a tempestuous former relationship that Andy Bells character, Torsten, had with a biker girl.
Fountain Of Youth (Radio Remix) - this track commands the attention of the Torsten The Bareback Saint audiences like no other in the show. It is a highlight of the piece and has been expertly re-versioned to make it radio-friendly. It is the bittersweet recollection of a fleeting but inspirational encounter with a libertine spirited hitch-hiker who ended up stealing both Torstens heart and his motorbike. An uplifting and life affirming musical missive. The myth of eternal youth distilled into pop perfection by pop legend Andy Bell. Taken from his must see (**) Edinburgh Fringe Festival show.
(**) Times Newspaper, Edinburgh Evening News and The List Magazine.
7" Vinyl Track Listing
I Dont Like
Fountain Of Youth
Catalogue Number: SFE7037
Format: 7" Vinyl Single
Bar Code: 5013929843776
Label: Cherry Red Records
Release Date: October 2014