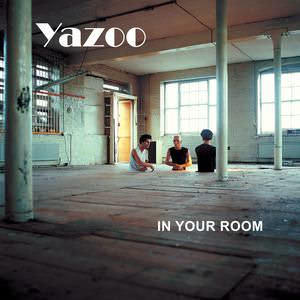 Yazoo - In Your Room - (3xCD & 1xDVD)
5099921516825
In Your Room (4-disc box set)
In Your Room, the highly acclaimed Yazoo 4-disc box set. A few remaining boxsets are now available.
The box set features remastered and 5.1 mixes of both Yazoo's classic albums Upstairs At Eric's and You And Me Both, b-sides and remixes. The package also contains a 64-page booklet.
In addition the DVD features classic Yazoo television performances from the BBC, promotional videos and a new short film containing exclusive new interviews with Vince Clarke and Alison Moyet.
Note: The DVD format is NTSC (All Regions).
Maximum one unit per customers please.
In Your Room 4 Disc Box Set Track Listing
Disc 1 (CD): Upstairs at Eric's (Remastered)
Don't Go
Too Pieces
Bad Connection
I Before E Except After C
Midnight
In My Room
Only You
Goodbye '70s
Tuesday
Winter Kills
Bring Your Love Down (Didn't I)
Disc 2 (CD): You And Me Both (Remastered)
Nobody's Diary
Softly Over
Sweet Thing
Mr Blue
Good Times
Walk Away From Love
Ode To Boy
Unmarked
Anyone
Happy People
And On
Disc 3 (CD): B-Sides and Remixes
Situation
Situation (Extended Version)
Don't Go (Re-mix)
Don't Go (Re-re-mix)
Situation (US 12" Mix)
Situation (US 12" Dub)
The Other Side Of Love
The Other Side Of Love (12" Remix)
State Farm
Nobody's Diary (Extended)
State Farm (Extended)
Situation (Re-recorded)
Disc 4 (DVD)
"2 albums, 4 singles and that was it..."



A short film featuring new interviews with Vince Clarke and Alison Moyet, and exclusive archive footage.

Promotional Videos



Don't Go
The Other Side Of Love
Nobody's Diary
Situation (1990)
Situation - Alternative Version (1990)
Only You (1999)

Yazoo At The BBC



Only You (Top Of The Pops) 29 Apr 1982
Only You (Cheggers Plays Pop) 24 May 1982
Don't Go (Top Of The Pops) 15 Jul 1982
Don't Go (Saturday Live) 24 Jul 1982
Don't Go (Top Of The Pops) 12 Aug 1982
The Other Side Of Love (Top Of The Pops) 25 Nov 1982
The Other Side Of Love (Top Of The Pops) 09 Dec 1982
Nobody's Diary (Top Of The Pops) 19 May 1983
Nobody's Diary (Top Of The Pops) 02 Jun 1983

5:1 And Stereo Mixes



Upstairs At Erics
You and Me Both