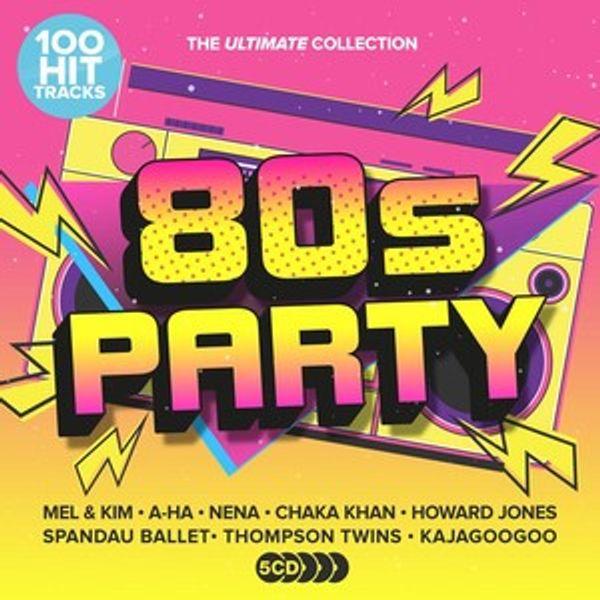 Various Artists - Ultimate 80s Party - (5CD Album) - pre-order [2021-11-05]
4050538695458
Pre-Order
Various Artists - Ultimate 80s Party - (5CD Album)
"Ultimate 80s Party" is out Friday, 5th November 2021 on BMG and available for pre-order now.
Available at a special pre-order price of £10.
NB: All products ordered with a pre-order will be dispatched together close to the latest pre-order release date. If you want earlier dispatched for another product then please place separate order(s).
Track Listing
Disc 1
Duran Duran - The Reflex (2010 - Remaster)
A-ha - Take on Me
Kajagoogoo - Too Shy
Nick Kamen - Each Time You Break My Heart
Rufus - Ain't Nobody (feat. Chaka Khan)
Nu Shooz - I Can't Wait
Kylie Minogue - Wouldn't Change a Thing
Mari Wilson - Just What I Always Wanted
Aztec Camera - Somewhere in My Heart
Madness - House of Fun (2009 - Remaster)
The Associates - Party Fears Two (2016 Remaster) (Single Edit)
Los Lobos - La Bamba
Nena - 99 Red Balloons
Howard Jones - What Is Love?
A Flock of Seagulls - Wishing (I Had a Photograph of You)
Spandau Ballet - Chant No. 1 (I Don't Need This Pressure On)
Thompson Twins - Love on Your Side (Single Version)
Climie Fisher - Rise to the Occasion
Thomas Dolby - Hyperactive!
Grandmaster Flash & Melle Mel - White Lines (Don't Do It)
Disc 2
Tina Turner - The Best
Roxette - Dressed for Success
Art of Noise - Kiss (feat. Tom Jones)
George Benson - Never Give Up On a Good Thing
Anita Baker - Sweet Love
Shalamar - A Night to Remember
The Maisonettes - Heartache Avenue
Simply Red - The Right Thing
The Valentine Brothers - Money's Too Tight to Mention
The Blow Monkeys - Digging Your Scene
Limahl - Never Ending Story
Tracie - The House That Jack Built
Princess - Say I'm Your Number One
Alison Moyet - Is This Love?
Christopher Cross - Ride Like the Wind
Womack & Womack - Love Wars
Crown Heights Affair - You Gave Me Love (7" Single Edit)
Blue Rondo A La Turk - Me and Mr. Sanchez
Modern Romance - Best Years of Our Lives
The Beach Boys - Kokomo
Disc 3
Chaka Khan - I Feel for You
Shalamar - I Can Make You Feel Good
The Whispers - And the Beat Goes On (Edit)
Loleatta Holloway - Love Sensation (7" Version)
The Sequence - And You Know That (Short Version)
Grandmaster Flash & The Furious Five - Pump Me Up
West Street Mob - Break Dance - Electric Boogie
Aurra - A Little Love (Radio Edit)
Coffee - Casanova (Single Version)
Dynasty - I've Just Begun to Love You
Midnight Star - Engine No.9
Keith Sweat - I Want Her
Kym Mazelle - Got to Get You Back
Raw Silk - Do It to the Music (Edit)
Taana Gardner - Heartbeat (Edit)
The Real Thing - Can You Feel the Force (86 Mix)
Candi Staton - Suspicious Minds
Sheila E. - The Belle of St. Mark
Coldcut - People Hold On (feat. Lisa Stansfield)
Kon Kan - I Beg Your Pardon (I Never Promised You a Rose Garden)
Disc 4
John Parr - St. Elmo's Fire (Man in Motion)
Dexys Midnight Runners - Geno
The Undertones - It's Going to Happen!
Madness - Wings of a Dove (2009 - Remaster)
Pretenders - Message of Love (2018 - Remaster)
The Power Station - Some Like It Hot
Bad Manners - Walking in the Sunshine
The Pogues - Fiesta
Pop Will Eat Itself - Def Con One
Faith No More - Epic
David Lee Roth - Just Like Paradise
Thomas Dolby - She Blinded Me With Science (2009 - Remaster)
Chris Rea - Let's Dance
Robert Palmer - Simply Irresistable
Yes - Owner of a Lonely Heart
Toyah - Thunder in the Mountains
Classix Nouveaux - Is It a Dream?
Stray Cats - Runaway Boys
Shakin' Stevens - Green Door
Toy Dolls - Nellie the Elephant
Disc 5
Mel & Kim - Respectable
Rob 'N' Raz - Got to Get (feat. Leila K)
Laura Branigan - Self Control
Sister Sledge - Frankie
Hazell Dean - Searchin' (I Gotta Find a Man)
Jason Donovan - Too Many Broken Hearts
Kylie Minogue - The Loco-Motion (7" Mix)
Kelly Marie - Feels Like I'm in Love
Bucks Fizz - Making Your Mind Up
Arrow - Hot Hot Hot (Edit)
The London Boys - Requiem
Samantha Fox - Touch Me (I Want Your Body)
Fuzzbox - International Rescue
Dollar - Videotheque
Debbie Gibson - Shake Your Love
The Reynolds Girls - I'd Rather Jack
Brother Beyond - He Ain't Competition
Matt Bianco - Wap Bam Boogie
Re-Flex - The Politics of Dancing
Red Box - Lean on Me (Ah-li-Ayo)
Format: 5CD Album
Barcode: 4050538695458
Label: BMG
Release Date: Friday, 5th November 2021