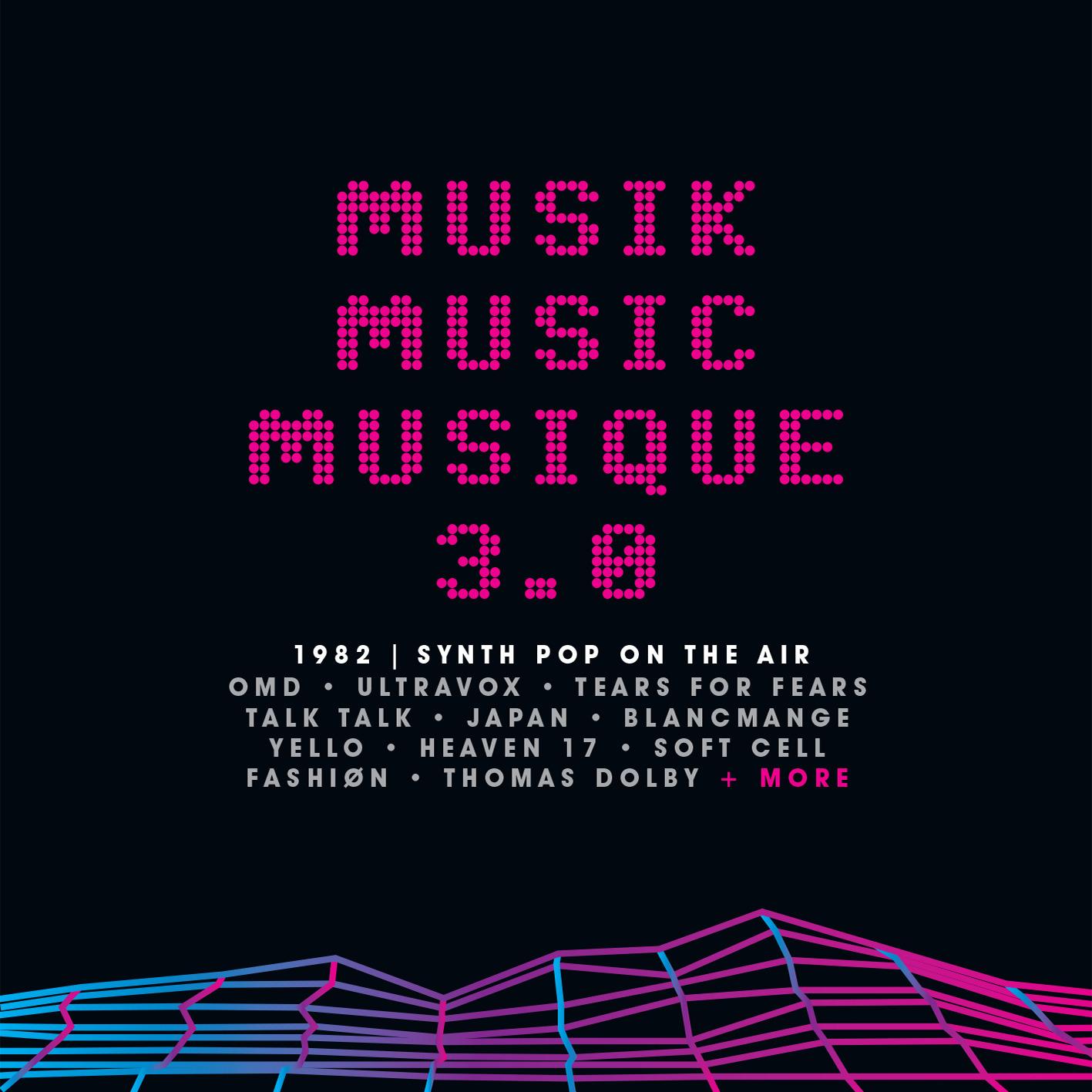 Various Artists - Musik Music Musique 3.0 1982: Synth Pop On The Air - (3CD Album)
5013929114098
0 remaining
Various Artists - Musik Music Musique 3.0 1982: Synth Pop On The Air - (3CD Album)
THIRD VOLUME IN THE HUGELY SUCCESSFUL 'MUSIK MUSIC MUSIQUE' SERIES, THIS TIME EXPLORING 1982, THE YEAR SYNTH POP CAME TO DOMINATE THE AIRWAVES.
OVER 50 TRACKS SHOWCASING THE ARTISTS AT THE FOREFRONT OF THE MUSICAL PHENOMENA THAT DEFINED THE 1980S.
FEATURING ULTRAVOX, THOMAS DOLBY, O.M.D., NEW ORDER, TALK TALK, FASHIØN, BLANCMANGE, SOFT CELL, HEAVEN 17, YELLO, FAD GADGET, THE HUMAN LEAGUE, TOYAH, KIM WILDE, TEARS FOR FEARS, THE PASSAGE, JAPAN AND COUNTLESS OTHER ELECTRONIC LUMINARIES.
PACKED WITH FAMILIAR CLASSICS AND LESSER-KNOWN GEMS.
BROUGHT TO YOU BY THE TEAM BEHIND THE CRITICAL AND COMMERCIAL HITS 'CLOSE TO THE NOISE FLOOR' AND 'ELECTRICAL LANGUAGE'.
SLEEVENOTES BY ELECTRONIC SOUND MAGAZINE'S MAT SMITH.
Following 2021's 'Musik Music Musique 2.0' set, the third volume in the series looks at the electronic pop scene as it came to dominate the airwaves. A period which saw the 1980's credible musical landscape evolve from gritty post-punk to shamelessly aspirational polished pop.
Featuring countless artists who would become household names (many of which remain active today) alongside lesser-known scene mainstays, independent innovators and novelty opportunists, 'Musik Music Musique 3.0' explores the evolution of synth pop from anything resembling a 'scene' into the standard musical form of the day, soon to be embraced by everybody from power balladeers to quasi-rock stadium acts. From chart staples and nightclub anthems to rarities, curios and collectables, this set gives equal airtime to all, basking in the breadth of ideas and innovation being explored as the musical world moved towards the mid-80s.
Eclectic, endlessly innovative and, most importantly, enduringly listenable, 'Music Musik Musique 3.0' continues where its predecessors left off, and sets the scene for forthcoming 1983 and 1984 editions.
Tracklisting
Disc One
Thomas Dolby - Radio Silence
The Passage - XOYO
Talk Talk - Mirror Man
100% Manmade Fibre - Green For Go
Orchestral Manoeuvres In The Dark - She's Leaving
Poeme Electronique - V.O.I.C.E.
Colourbox - Breakdown (1982 Single Version)
Blancmange - I've Seen The Word
Fashiøn - Streetplayer (Mechanik)
Japan - European Son
Greeting No 4 - Condition
Richard Bone - Digital Days
Paul Haig - Justice
Tears For Fears - Pale Shelter
Arthur Brown - Conversations
Die Krupps - Goldfinger
Planning By Numbers - Lightning Strikes
Faith Global - Coded World
Aerial FX - Instant Feeling
Ultravox - Monument
Disc Two
Dramatis - The Shame
Fiat Lux - This Illness
New Order - Temptation
Kevin Coyne - Tell The Truth
Dead Or Alive - What I Want (Demo)
Toyah - Ieya 1982
Fad Gadget - Life On The Line
Thirteen At Midnight - Climb Down
Soft Cell - Sex Dwarf
Yello - Heavy Whispers
Zoo Boutique - Happy Families
The Human League - You Remind Me Of Gold
Moebius - Pushing Too Hard
Passion Polka - Juliet
Endgames - First-Last-For Everything (Club Version)
Leisure Process - Love Cascade
Drinking Electricity - Good Times
Section 25 - Hold Me
Disc Three
Heaven 17 - Let Me Go!
Voice Farm - Beatnik
Telex - Sigmund Freud's Party
Thomas Leer - Mr Nobody
Kim Wilde - Child Come Away
Communication - Future Shock
Berlin - Sex (I'm A….)
Local Boy Makes Good - Hypnotic Rhythm
Mikado - Par Hasard
Falco - Maschine Brennt
Those French Girls - Sorry Sorry
Nick Nicely - Hilly Fields (1892)
Time In Motion - Quiet Type
Ukraine - Remote Control
Julie And The Jems - 1-2-3
Thick Pigeon - Subway
Sergeant Frog - Profile Dance
Omega Theatre - Robots, Machines And Silicon Dreams
Format: 3CD Album
Barcode: 5013929114098
Catalogue Number: CRCDBOX140
Label: Cherry Red Records
Release Date: Friday, 17th February 2023