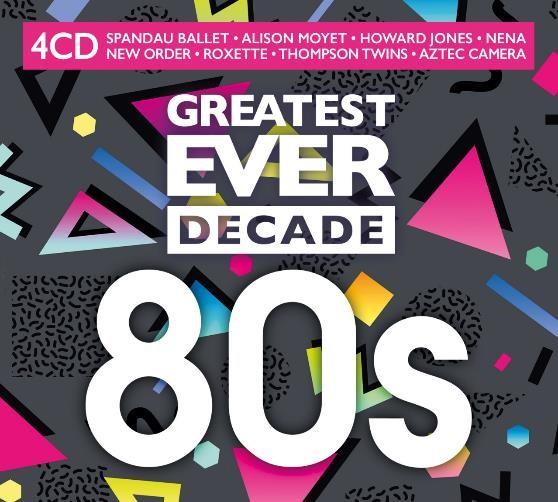 Various Artists - Greatest Ever Decade: 80s - (4CD Album) - pre-order [2021-06-25]
4050538661316
Pre-Order
Various Artists - Greatest Ever Decade: 80s - (4CD Album)
GREATEST EVER DECADE 80s showcases this most enduring period of pop history with huge pop hits by the biggest stars of the Eighties.
There's pure pop from Kylie Minogue, Mel & Kim and Jason Donovan, quality soul by Sister Sledge, Princess and Shalamar, and from the rock world Foreigner, Chris Rea and ZZ Top. Sprinkle through essential 80s bands like Duran Duran, Spandau Ballet and a-ha, and solo stars Tina Turner, Robert Palmer and Rick Astley and the result is a brilliant snapshot of the decade like no other.
With four CDs and 80 tracks from the 80s, GREATEST EVER DECADE 80s is essential.
Available at a special pre-order price of £10.
"Greatest Ever Decade: 80s" is out Friday, 25th June 2021 on BMG and available for pre-order now.
NB: All products ordered with a pre-order will be dispatched together close to the latest pre-order release date. If you want earlier dispatched for another product then please place separate order(s).
Track Listing
CD1
Madness - Baggy Trousers
Spandau Ballet - Gold
Duran Duran - Hungry Like The Wolf
Talk Talk - It's My Life
New Order - Blue Monday '88
A-Ha - You Are The One
Howard Jones - Like To Get To Know You Well
Red Box - For America
Aztec Camera - Somewhere In My Heart
Electronic - Getting Away With It
Belouis Some - Imagination
Dollar - Videotheque
Fuzzbox - Pink Sunshine
Debbie Gibson - Out Of The Blue
Nick Kamen - Each Time You Break My Heart
Brother Beyond - The Harder I Try
Jason Donovan - When You Come Back To Me
Hazell Dean - Maybe (We Should Call It A Day)
Mel & Kim - F.L.M.
Grandmaster Flash & Melle Mel - White Lines (Don't Do It)
CD2
Simply Red - Money's Too Tight (To Mention)
Tina Turner - Private Dancer
Roxette - Listen To Your Heart
Peter Cetera - Glory Of Love
Christopher Cross - Arthur's Theme (Best That You Can Do)
Robert Palmer - She Makes My Day
Hot Chocolate - It Started With A Kiss
The Maisonettes - Heartache Avenue
Atlantic Starr - Always
Randy Crawford - Almaz
Karyn White - Superwoman
Alison Moyet - Love Letters
Keith Marshall - Only Crying
Sky - Toccata
David Essex - Me And My Girl (Night-Clubbing)
Bucks Fizz - My Camera Never Lies
Mandy Smith - Don't You Want Me Baby
Sonia - You'll Never Stop Me Loving You
Kylie Minogue - Got To Be Certain
Rick Astley - Whenever You Need Somebody
CD3
Nena - 99 Red Balloons
Thomas Dolby - She Blinded Me With Science
Foreigner - Waiting For A Girl Like You
David Lee Roth - California Girls
ZZ Top - Rough Boy
Chris Rea - Stainsby Girls
Elvis Costello - Veronica
The Stranglers - Golden Brown
Madness - Michael Caine
Pinkees - Danger Games
Toyah - I Want To Be Free
Echo & The Bunnymen - The Cutter
The Jesus & Mary Chain - Some Candy Talking
Stray Cats - Stray Cat Strut
Broken English - Comin On' Strong
Japan - Life In Tokyo
A Flock Of Seagulls - The More You Live, The More You Love
The Korgis - If It's Alright With You Baby
The Mobiles - Drowning In Berlin
Thompson Twins - King For A Day
CD4
Nu Shooz - I Can't Wait
Robert Howard feat. Kym Mazelle - Wait
Sister Sledge - Thinking Of You
The Whispers - It's A Love Thing
Stacy Lattisaw - Jump To The Beat
The Sequence - And You Know That
Midnight Star - Headlines
Jomanda - Make My Body Rock (Feel It)
Ce Ce Rogers - Someday
Rochelle - My Magic Man
Stock Aitken Waterman - Roadblock
Aurra - Keep Doing It Right
Barbara Mason - Another Man
Princess - Tell Me Tomorrow
Shalamar - Make That Move
Dynasty - Does That Ring A Bell
Kelly Marie - Hot Love
Candi Staton - Count On Me
Biz Markie - Just A Friend
Grandmaster Flash & The Furious Five - The Message
Format: 4CD Album
Barcode: 4050538661316
Label: BMG
Release Date: Friday, 25th June 2021