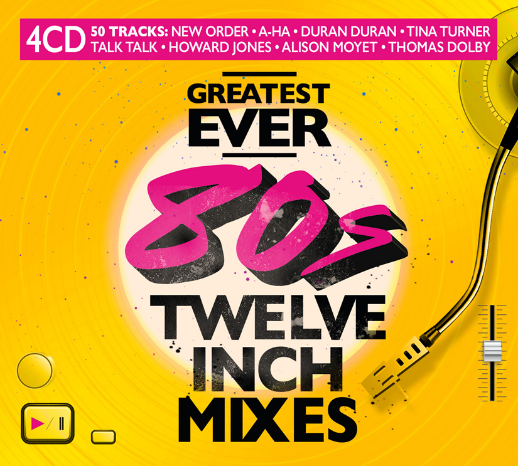 Various Artists - Greatest Ever 80s 12" Mixes - (4CD Album)
4050538789737
In Stock
Various Artists - Greatest Ever 80s 12" Mixes - (4CD Album)
Packed with 50 extended mixes of 1980s singles across 4 CDs, this collection opens with New Order's Blue Monday, acknowledged as the best selling 12" single of all time in the UK. The first CD also contains original twelve inch versions of hits by Duran Duran, Talk Talk, Spandau Ballet, a-ha and Howard Jones amongst many others. The second disc digs deep into pure pop and once The Tabloid Mix of Mel & Kim's Respectable opens proceedings, extended versions of smashes from Rick Astley, Kylie Minogue, Bucks Fizz and Nu Shooz keep the energy level high.
CD three goes long with Simply Red, Alison Moyet and Tina Turner before taking in rarer 12" gems from Hollywood Beyond, Blue Zoo and Re-Flex which have been hard to find on CD. The closing disc focuses on soul and dance music, opened by Chaka Khan and Sister Sledge before delving into the work of remix legend Shep Pettibone for a run of his 12" mixes, wrapping up with White Lines (Don't Do It) by Grandmaster Flash & Melle Mel.
Tracklisting
CD1
New Order - Blue Monday
Duran Duran - Girls On Film
Kajagoogoo - Too Shy
Talk Talk - It's My Life
Howard Jones - What Is Love?
Thomas Dolby - Hyperactive!
Spandau Ballet - Gold
Madness - Our House
Nena - 99 Red Balloons
Blow Monkeys - It Doesn't Have To Be This Way
Nick Kamen - Each Time You Break My Heart
Japan - Quiet Life
A-ha- The Sun Always Shines On T.V.
CD2
Mel & Kim -Respectable
Rick Astley -Never Gonna Give You Up
Kylie Minogue - Never Too Late
Nu Shooz - I Can't Wait
Hazell Dean - Searchin' (I Gotta Find A Man)
Rochelle - My Magic Man
Stacey Q - Two Of Hearts
Bucks Fizz - If You Can't Stand The Heat
Thompson Twins - Love On Your Side
Loleatta Holloway - Love Sensation
Ten City - That's The Way Love Is
Grandmaster Flash & The Furious Five - The Message
CD3
Tina Turner - What's Love Got To Do With It
Alison Moyet - Invisible
Simply Red - The Right Thing
Howard Hewett - Stay
Laura Branigan - Self Control
Dollar - Hand Held In Black And White
Re-Flex - The Politics Of Dancing
Blue Zoo - Cry Boy Cry
Belouis Some - Imagination
Red Box - For America
Hollywood Beyond - What's The Colour Of Money?
Aztec Camera - Oblivious
Echo & The Bunnymen - Never Stop
CD4
Chaka Khan - I Feel For You
Sister Sledge - Lost In Music
Shalamar -There It Is
Amii Stewart - Knock On Wood
Crown Heights Affair - You Gave Me Love
First Choice - Let No Man Put Asunder
Aurra - Such A Feeling
Instant Funk- (Just Because) You'll Be Mine
Leroy Burgess -Heartbreaker
Princess - Say I'm Your Number One
Midnight Star - Midas Touch
Grandmaster Flash & Melle Mel - White Lines (Don't Do It)
Format: 4CD Album
Barcode: 4050538789737
Label: BMG
Release Date: Friday, 15th April 2022