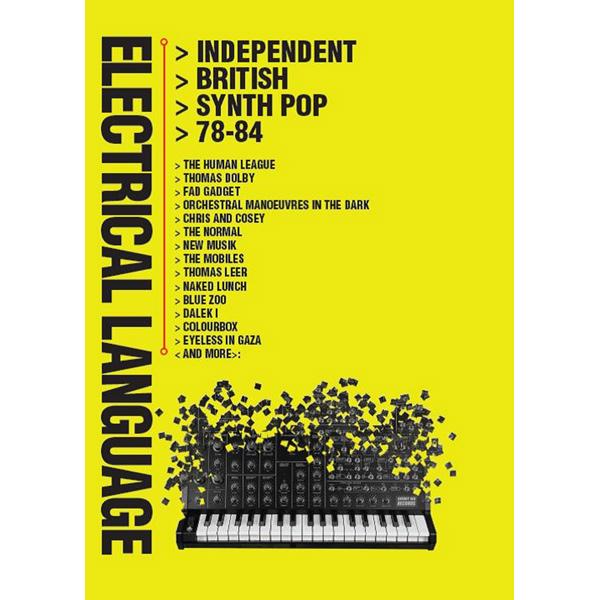 Various Artists - ELECTRICAL LANGUAGE Independent British Synth Pop 78-84 - (4xCD Bookpack) - Pre-Order [2019-05-31]
5013929107700
Pre-Order
Various Artists - ELECTRICAL LANGUAGE Independent British Synth Pop 78-84 - (4xCD Bookpack)
4CD / 80 track set exploring the independent side of the UK's post-punk synth-pop boom.
From household names and scene legends to underground outsiders and bedroom experimenters. Includes The Human League, OMD, Fad Gadget, Thomas Dolby, The Normal and many more.
Hardback book format includes over 12,000 words of sleevenotes (including artist-written pieces), introductory essay by Dave Henderson and period imagery.
Key tracks and hidden gems from Mute Records, Rough Trade, 4AD, Survival Records, Cherry Red and a host of essential independent players.
Produced by the team behind the critically acclaimed 'Close To The Noise Floor' series and a number of other essential box sets.
"Various Artists - ELECTRICAL LANGUAGE Independent British Synth Pop 78-84", is out Friday, 31st May 2019 and available for pre-order worldwide now.
NB: All products ordered with a pre-order will be dispatched together close to the latest pre-order release date. If you want earlier dispatched for another product then please place separate order(s).
CD1 Track Listing
WINDPOWER - Thomas Dolby
SCIENCE FICTION - Alan Burnham
WARM LEATHERETTE - The Normal
STAY WITH ME TONIGHT - Alex Fergusson
TARANTULA - Colourbox
FANTASY - 100% Manmade Fibre
BANDWAGON TANGO - Testcard F
ELECTRICAL LANGUAGE - Be-Bop Deluxe
THE WORLD - Dalek I
HONOUR AMONG THIEVES - Chain Of Command
RED FRAME/WHITE LIGHT - Orchestral Manoeuvres In The Dark
RED CASTLES - The Legendary Pink Dots
LIFES ILLUSION - Ice The Falling Rain
THE HUMAN FACTOR - Music For Pleasure
SHE'S AN IMAGE - Poeme Electronique
I'M THINKING OF YOU NOW - Box Of Toys
THE PLANET DOESN'T MIND - New Musik
HOPE DEEP INSIDE - Schleimer K
THE DISTANCE FROM KÖLN - Native Europe
TECHNICAL MIRACLE - Voice Of Authority
CD2 Track Listing
CIRCUS OF DEATH - The Human League
XOYO - The Passage
CROWDS - A Popular History Of Signs
OCTOBER (LOVE SONG) - Chris And Cosey
FEEL SO YOUNG - Laugh Clown Laugh
CROATIA - Basking Sharks
MR NOBODY - Thomas Leer
RICKY'S HAND - Fad Gadget
HYPNOTIC RHYTHM - Local Boy Makes Good
DROWNING IN BERLIN - The Mobiles
EVEN NOW - Edward Ka-Spel
LYING NEXT TO YOU - Passion Polka
RABIES - Naked Lunch
DO IT - The Limit
WORK SONG - Robert Calvert
BABY WON'T PHONE - Quadrascope
IT HAPPENED THEN - Electronic Ensemble
IN THE MORNING - Jeanette
NIGHTLIFE - Those Attractive Magnets
MY COO CA CHOO - Beasts In Cages
CD3 Track Listing
YOUR LOVE IS LIKE A SLUG - The Bodhi-Beat Poets
VEIL LIKE CALM - Eyeless In Gaza
DESTITUTION - Camera Obscura
GOOD TIMES - Drinking Electricity
HAPPY FAMILIES - Zoo Boutique
FEELS LIKE WINTER AGAIN - Fiat Lux
FALLING DOWNSTAIRS - Colin Potter
OUR LITTLE GIRL - David Harrow
IT NEVER RAINS IN OUTER SPACE - Futurhythm
ZENNOR - Goat
VIDEOMATIC - Final Program
TADDY UP - Pink Industry
YOU DON'T LOOK THE SAME - Play
CHILDREN OF THE REVOLUTION - The Fast Set
TRACE OF RED - Two
LYING HERE - Shox
DAYTIME ASSASSINS - The Builders
BEATING HEART (12" VERSION) - Section 25
ABSENT FRIENDS - Joe Crow
JAMAICA DAY - Faction
CD4 Track Listing
GENERATOR (LASERBEAM) - Tim Blake
TOUCH - Lori And The Chameleons
THE SECRET AFFAIR - Jupiter Red
I'M YOUR MAN - Blue Zoo
EVEN ROSES HAVE THORNS - Jesus Couldn't Drum
PAINT IT BLACK - Techno Pop
CHASE THE DRAGON - Kevin Harrison
OTHER PASSENGERS - Thirteen At Midnight
YOUR VOICE - Freeze Frame
STAY WITH YOU - Time In Motion
LIVE WIRES KILL - The Toy Shop
SURFACE TENSION - Analysis
TIME - Paul Haig
CONTEMPLATION - Solid Space
COMMITTED TO VINYL - Martin O'Cuthbert
LOOK DON'T TOUCH - Science
THE WISHING TREE (MEGATREE MIX) - Charlie's Brother
WORKING MODEL - The Quarks
THERE'S SOMEONE FOLLOWING ME - Eddie & Sunshine
HAPPY XMAS (WAR IS OVER) - Hybrid Kids
Format: 4xCD Bookpack
BarCode: 5013929107700
Catalogue Number: CRCDBOX77
Label: Cherry Red Records
Release Date: Friday, 31st May 2019