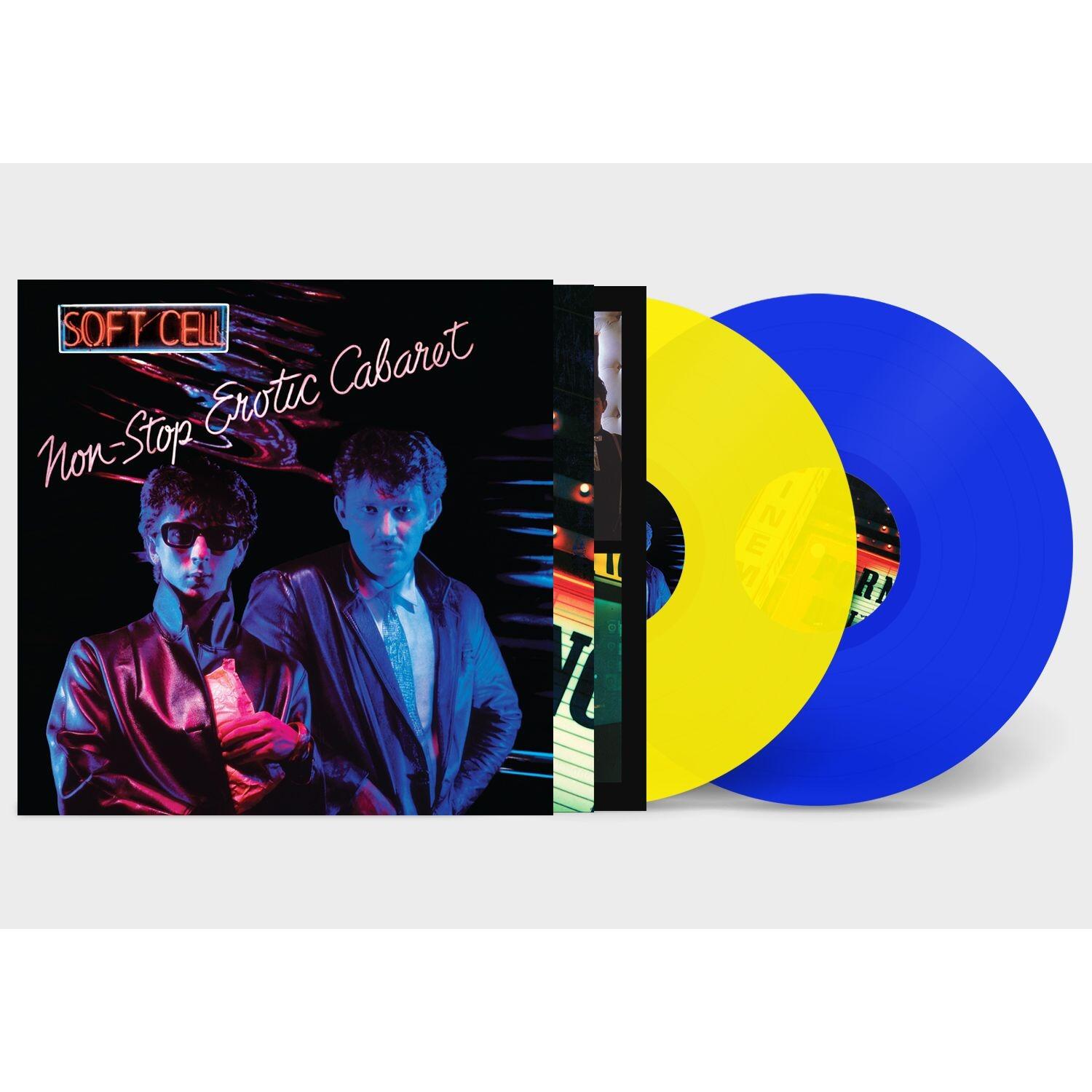 Soft Cell - Non Stop Erotic Cabaret - (Limited Edition 2LP Blue/Yellow Vinyl Album) - pre-order [2023-10-20]
0602455438362
Pre-Order
Soft Cell - Non Stop Erotic Cabaret - (Limited Edition 2LP Blue/Yellow Vinyl Album)
In the four decades since its release, it's hard to overestimate just how influential the debut album by Soft Cell, 'Non-Stop Erotic Cabaret', has been. It's revered by artists such as Trent Reznor and sampled by the likes of Rihanna. It remains an icon of electronic music.
With its roots in post-punk electronics, French chanson, American soul, kitchen sink drama and New York dance, over forty years later, the album's themes still resonate and helped change the course of British pop. It paved the way for countless synth-based music duos, fashioning something dark and distinctive with a hit of pop that helped kick-start a new decade. The phenomenal success of 'Tainted Love' in America, where it spent a then-record breaking 43 straight weeks on the Billboard Hot 100) also helped open up the U.S. for alternative and electronic artists such as The Cure & Depeche Mode.
Initially released in November 1981, the ten-track song cycle, in the words of Marc Almond, "Tells a story of a bored ordinary bloke seething with his life wanting more and looking for excitement and adventure in a red neon lit Soho world of red-light cabarets, prostitutes and sex dwarves, looking back at his youth and wondering what happened." 'Non-Stop Erotic Cabaret' contained three of the most significant singles of the decade; 'Tainted Love' (the best-selling UK single of 1981), 'Bedsitter' and 'Say Hello Wave Goodbye'.
"Soft Cell - Non Stop Erotic Cabaret" is out Friday, 20th October 2023 on EMI/UMR and available for pre-order now.
NB: All products ordered with a pre-order will be dispatched together close to the latest pre-order release date. If you want earlier dispatched for another product then please place separate order(s).
Tracklisting
Side A
Frustration 04:12
Tainted Love 02:35
Seedy Films 05:05
Youth 03:21
Sex Dwarf 05:47
Side B
Entertain Me 03:00
Chips On My Shoulder 04:06
Bedsitter 03:36
Secret Life 03:37
Say Hello, Wave Goodbye 05:34
Side C
Memorabilia (Single Version) 04:49
A Man Could Get Lost (Single Version) 03:17
Persuasion (Edit of 12" Single B-Side) 03:36
Where Did Our Love Go? (Single B-Side) 03:14
Facility Girls (Single B-Side) 02:23
Say Hello, Wave Goodbye (Single B-side, Instrumental) 03:54
Side D
Fun City (Edit of 12" Single B-Side) 04:24
Torch (Single Version) 04:08
Insecure Me (Single B-Side) 03:10
What! (Single Version) 02:51
…So (Single B-Side) 03:49
Format: Limited Edition 2LP Blue/Yellow Vinyl Album (Exclusive)
Barcode: 0602455438362
Product Code: 5543836
Label: EMI/UMR
Release Date: Friday, 20th October 2023