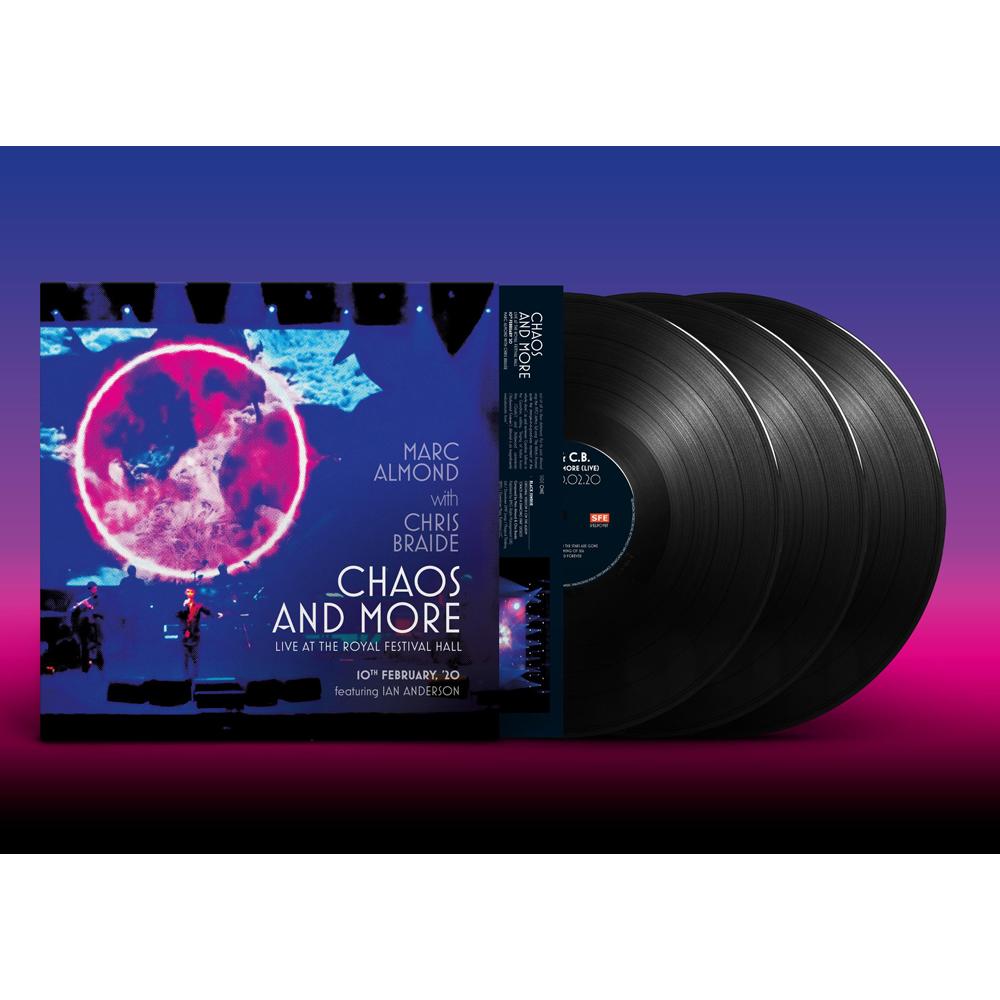 Marc Almond With Chris Braide Featuring Ian Anderson - Chaos And More: Live At The Royal Festival Hall - 10th February 2020 - (Limited Edition 3LP Vinyl Album)
5013929850811
In Stock
Marc Almond With Chris Braide Featuring Ian Anderson - Chaos And More: Live At The Royal Festival Hall - 10th February 2020 - (Limited Edition 3LP Vinyl Album)
Limited edition triple vinyl album set with colour printed inner sleeves.
A comprehensive celebration of Marc Almond's song-writing partnership with super-producer Chris Braide.
A hit-studded joint concert that took place at the iconic Royal Festival Hall on 10th February, 2020 - the first time the stellar songwriting partnership had performed live together since their collaboration began with the 2015 Marc Almond album. 'The Velvet Trail'.
Mammoth 36 song set including some of Chris Braide's best known compositions - 'Unstoppable' (Sia) and 'Kill And Run' (for the film The Great Gatsby); plus an emotive stripped back piano and voice suite of cult songs from Marc Almond's own songbook - including 'Black Heart', 'Torch' and 'Where The Heart Is'.
Paying tribute to Marc Almond and Chris Braide's unifying love of Marc Bolan in deft cover versions of 'Children Of The Revolution' and 'Change'.
One of the most gifted vocal talents the UK has ever produced, Marc Almond has enjoyed an acclaimed and enduring career selling over 35 million records worldwide, both with his solo work, and with the pioneering synth-pop duo Soft Cell.
Chris Braide is a Grammy nominated, Ivor Novello and ASCAP award winning songwriter, producer, composer and musician who has worked with the likes of Sia, Hans Zimmer, Lana Del Ray, Beyonce and Nicki Minaj.
The concert featured Marc performing a selection from his catalogue of hits plus showcasing the 2020 collaborative album with Chris Braide, 'Chaos And A Dancing Star'. Their special guest star was Ian Anderson of Jethro Tull, his signature flute adding, "a prog-rock frosting to 'Bedsitter' and 'Tainted Love', not at all to their detriment. For his part, Almond sings the 1970 Jethro Tull song 'The Witch's Promise', quite the strange-in-a-good-way moment of the whole show," said reviewer Caroline Sullivan in The Guardian, adding, "Almond is on magnificently melodramatic form."
Tracklisting
Side One
Black Sunrise
When The Stars Are Gone
Dust
Dreaming Of Sea
Hollywood Forever
Side Two
Chevrolet Corvette Stingray
Cherry Tree
Chaos
Fighting A War
Giallo
Side Three
Lord Of Misrule*
Witch's Promise*
Bedsitter*
Slow Burn Love
The Crow's Eyes Have Turned Blue
* featuring Ian Anderson
Side Four
Flames
Skin Deep
The Pain Of Never
Scar
Kill And Run**
Unstoppable**
Torch
** Chris Braide solo performance
Side Five
Black Heart
Little Rough Rhinestone
Flowered Goodbye
Winter Sun
Change
Where The Heart Is
Embers
Minotaur
Side Six
Zipped Black Leather Jacket
A Kind Of Love
Dandy In The Underworld
Children Of The Revolution
Tainted Love*
Say Hello, Wave Goodbye*
* featuring Ian Anderson
Format: Limited Edition 3LP Vinyl Album
Barcode: 5013929850811
Catalogue Number: SFELP098T
Label: Cherry Red Records
Release Date: Friday, 10th February 2023