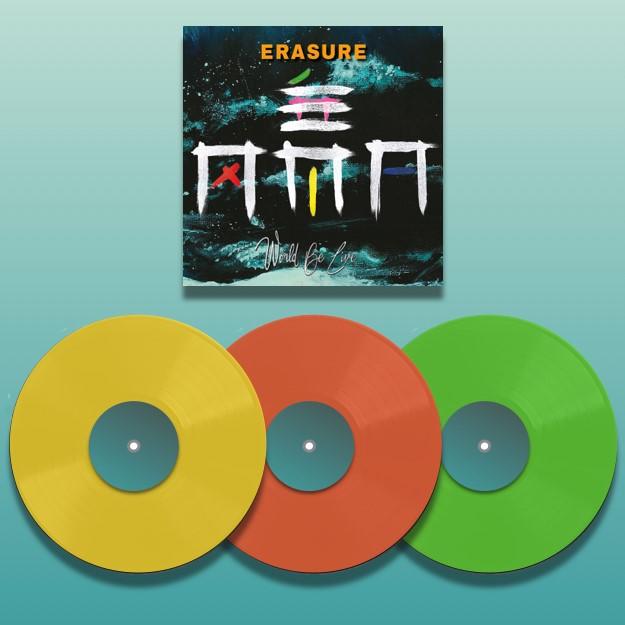 Erasure - World Be Live - (3 x Coloured HeavyWeight Vinyl)
LHN045LP
0 remaining
Erasure - World Be Live - (3 x Coloured HeavyWeight Vinyl)
June 15th marked the release of an Erasure Information Service/Live Here Now "World Be Gone" show in Double CD and Triple Vinyl formats featuring deluxe packaging. The album was recorded across both nights at The Eventim Apollo Hammersmith shows in London during February 2018.
To complete the trilogy style the 'World Be Live' sleeve will feature a new painted image from Louise Hendy who also did the paintings for 'World Be Gone' and 'World Beyond'.
A few of these remaining are available now.
Triple LP Track Listing
Oh L'Amour
Ship Of Fools
Breathe
Mad As We Are
Just A Little Love
In My Arms
Chains Of Love
Sacred
Sweet Summer Loving
I Love Saturday
Victim Of Love
Phantom Bride
World Be Gone
Who Needs Love (Like That)
Take Me Out Of Myself
Blue Savannah
Atomic
Drama!
Stop!
Love You To The Sky
Always
Here I Go Impossible Again
Sometimes
A Little Respect
Format: Triple Gatefold, Coloured HeavyWeight (180g) Vinyl
Catalogue Number: LHN045LP
Label: Erasure Information Service / Live Here Now
Release Date: Friday, 15th June 2018